Learn About this Image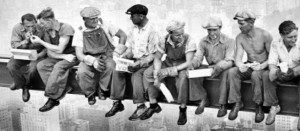 This iconic photo was shot on September 20, 1932 high above 41st Street in Manhattan. These 11 iron-workers were eating lunch on this steel girder 850 feet above the ground. With NO safety harnesses (OSHA was not around until 1971!). The building they were working on was the RCA building, now called the GE building.
If you're anything like me, this picture makes your heart race and has you feeling slightly dizzy, but to many people over the years, the picture has become a mystery, with many families claiming these men as their ancestors. For more details on this picture and it's background, visit the Smithsonian and Wikipedia. Enjoy a break to learn something interesting.